Wondering how Excitr will work for you if you don't have a lot of followers on Instagram, Twitter or a lot of likes on Facebook?
Let's analyse this in the text below.
So, standard promotion methods that you can use for your smartlink are these: 
1. Post on social media / YouTube
2. Include your smartlink in your newsletter.
With one important addition for upcoming artists: Upcoming artists with more modest fanbases should look into using paid ads to reach their target audience with our links. 
You see, if you were to promote your Spotify release with a paid ad on Facebook & Instagram without our smartlink, the fan would have no incentive to stream your music. 
The best results we have seen end up costing 8c per play per fan, and given the fact that the average Spotify payout for one play is 0.3c, if you were doing this, you would end up losing money by promoting in this way.
That's where Excitr comes in.
For example, with Excitr, you can create & promote a Top Fans Contest that would look something like this: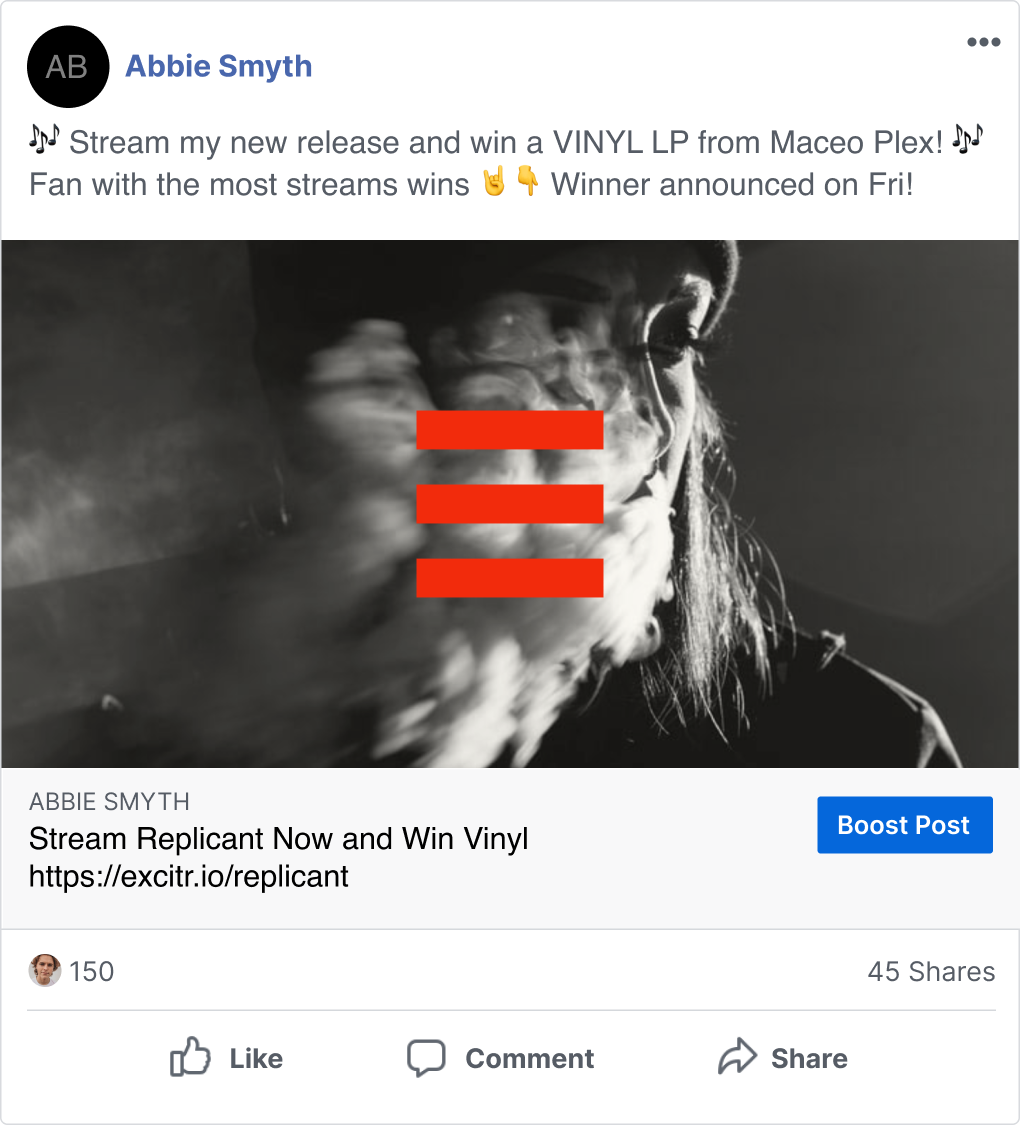 When the fan clicks on the link in your promoted post, he lands on your Excitr landing page and is incentivised to stream your music for many many times. 
The more times the fan streams, the better the chances of him/her being the Top Fan and winning the reward, or in this case, a vinyl record. 
When we promoted our smartlinks on FB & IG, with our internal tests we achieved these results (we promoted a new artist without an established fanbase):
For 10$ of ad spend we achieved 10K streams (40$ Spotify payout!) with our Excitr landing page. That's a ROI of 4x! 
How did we do this?
We set the reward to be a vinyl record from an artist SIMILAR to our artist's music style. 
For example, if you are a tech-house DJ, consider giving your fans a vinyl by Loco Dice or a similar well known tech-house producer. The same goes for all music styles. 
One other good strategy is to give away your own exclusive bootleg / remix of a well known track. 
For example, if you were a tech-house DJ, you could remix a well known dance classic such as (what first comes to our mind) Gala - Freed From Desire or any other well known track/artist. The idea is to provide something valuable and exclusive to your fans, with a name they will recognise and want to have and download. 
Let's now go through the steps on how to promote your Excitr landing page (or smartlink as we call it): 
1. This is our landing page (smartlink) posted on our artist's Facebook page. Click on Boost Post.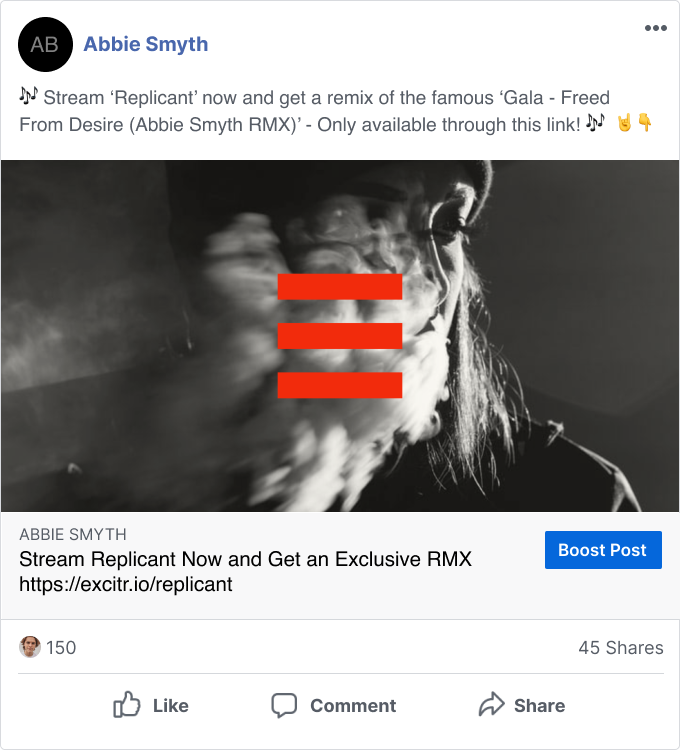 2. Now choose your target audience. Target people in any location you prefer. 
Their interests will match your own interests (you are in this case a tech-house DJ who is promoting his smartlink to tech-house fans).
So for example, you would choose something like Beatport, Tech House, Techno, House, EDM, Mixmag, Spotify, Loco Dice, and other interests currently hot in the tech-house scene.
Once you have a well defined audience, all you have to do is input your budget and you're done.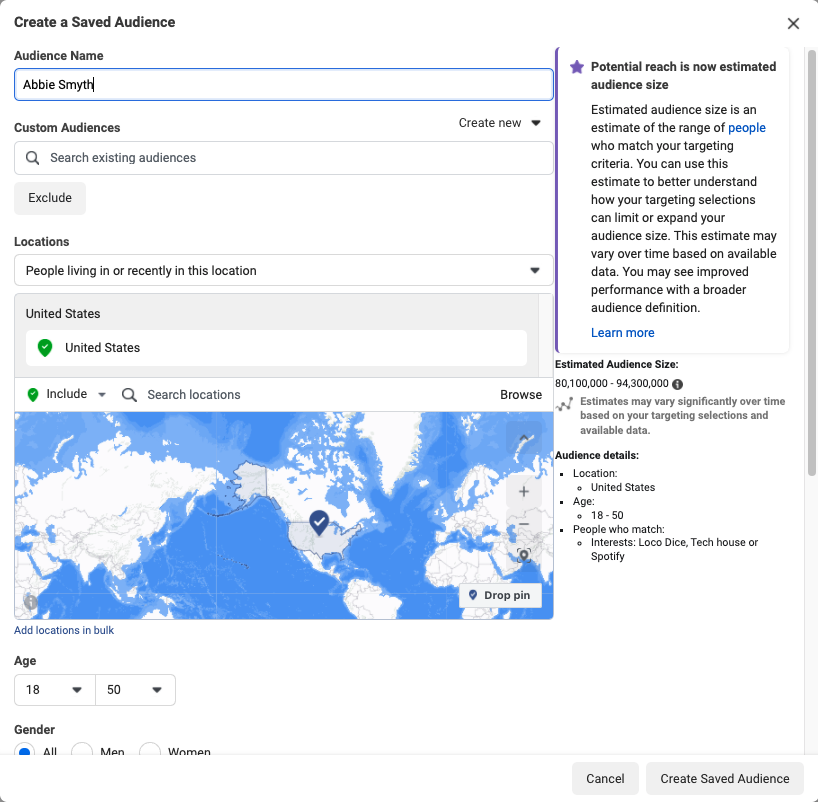 With Excitr, you can create Top Fan contests in no time. It really is a game-changing product for the music streaming industry.  Start earning from your music today!